In the world of the bearded, there are a plethora of products your beard has to have with various functions, at different stages in the process, and the list goes on. From oil to conditioner to soap, it's easy to get lost in the matrix without knowing what your beard actually needs or how to use each product effectively.

In our newest collection of blogs, the Bossman Team has decided to breakdown each product, why you need it, what stage in the process it is most effective and more. So, without further adieu, let's talk Beard Balm.
Beard balm is a combination of essential oils that work to trap oil in the actual beard hair, strengthening the hair while taming flyaways and softening the hair. It is different than oil as it holds moisture in the beard hair and doesn't focus its efforts on the pores. Beard balm is perfect for flyaways, and to give your beard a thicker look.
Why do I need Beard Balm?
Beard balm is a crucial piece in maintaining a strong, healthy, and full beard. Just like with the hair on your head, conditioning will always lead to healthier and fuller hair. Think of beard balm as a leave-in conditioning treatment that just also helps to shape your beard while helping to keep it safe in harsh conditions.


At Bossman, Beard Balm is the last step in our simple 4-Step Beard Care Process.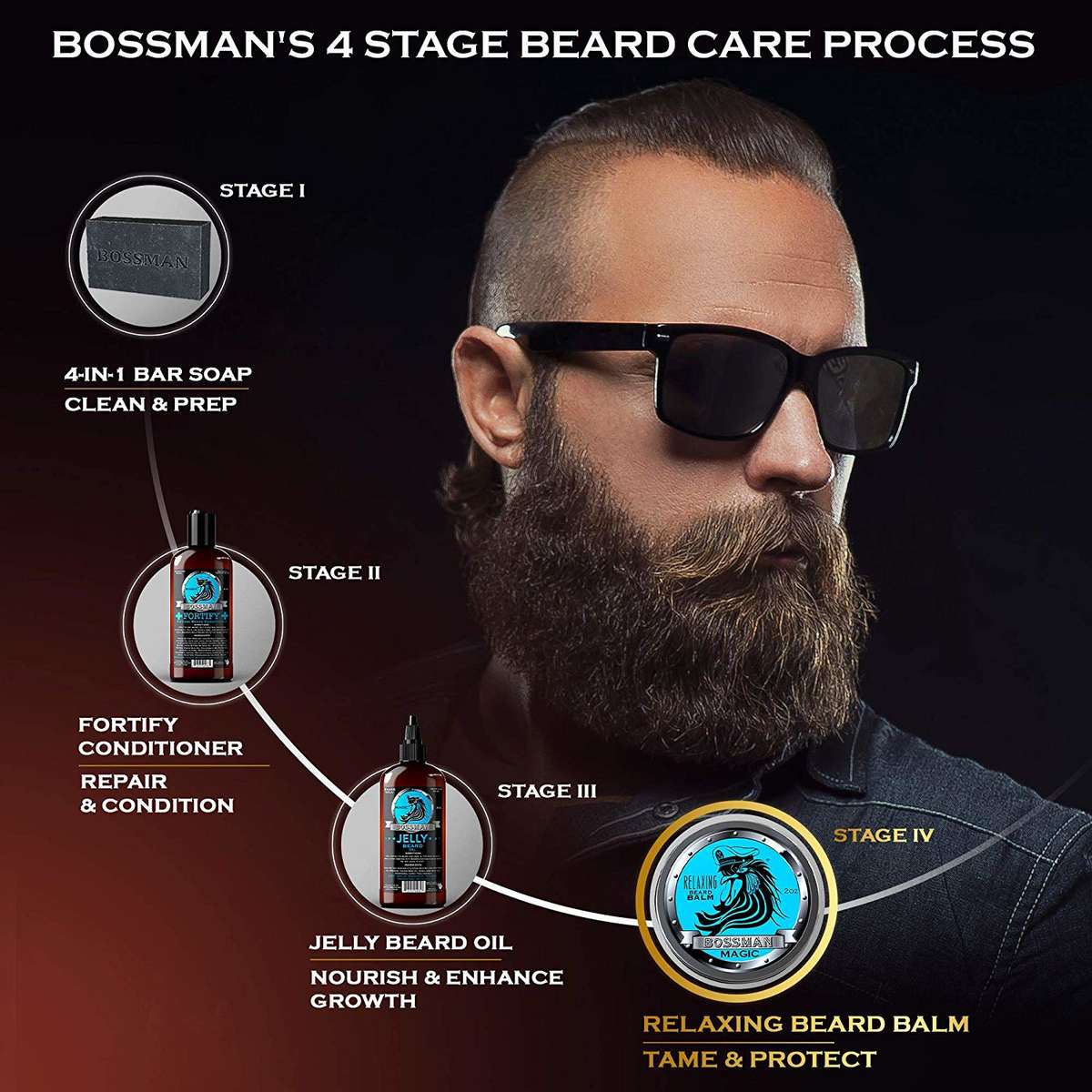 Skipping out on this final step in the beard care process could lead to a mess of a chin sweater.

Our beard balm

both nourishes your actual beard hair while giving it an enhanced hold throughout the rigors of the day.
When should I use Beard Balm?
As mentioned above, Beard Balm comes in stage four of the Bossman 4-step process. So, use after you have cleaned, conditioned, and nourished your beard.
What should I look for in a Beard Balm?
Outside of the word "Bossman" being on the actual product, there are a few key components of beard balm that will make or break it's effectiveness. First and foremost, keep an eye out for alcohol-based scents which can damage the skin instead of leaving it hydrated and healthy. You also want to ensure the beard balm is packed with essential oils. For example, our Bossman Beard Balm is jam-packed with Coconut Oil, Soybean Oil, Beeswax, Shea Butter, Mango Seed Butter, Cocoa Seed Butter, and more.
At the end of the day, your beard is an extension of you (your face) and should be treated like chin royalty. Cheating on any of the stages of the 4-step process would be like a bodybuilder cheating on a diet or an athlete deciding practice wasn't important anymore. Grab some

Bossman Relaxing Beard Balm

today to tame those flyaway and nourish your beard like never before, boss.
FREE SHIPPING ON DOMESTIC ORDERS OVER $45